Sam Garrett
Forward To Zion Tour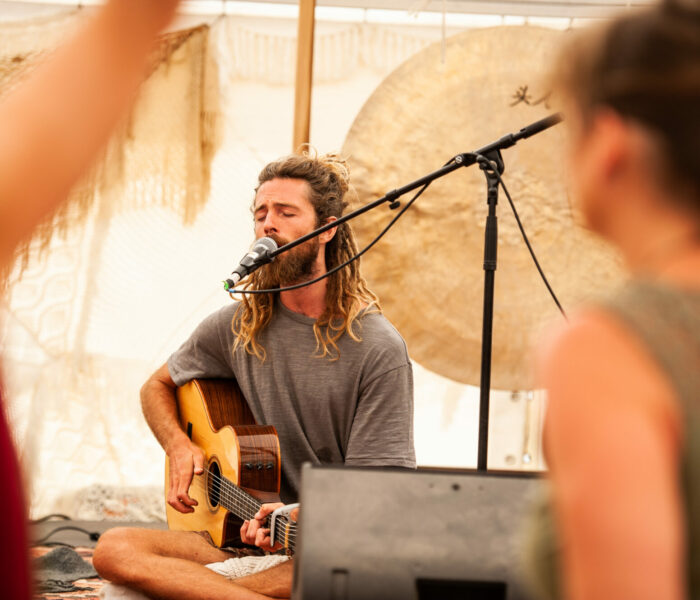 Sam Garrett is an English Singer-songwriter whose music highlights his spiritual journey exploring Eastern Philosophy, Meditation, Yoga and Rastafari Wisdom. Lyrically soulful and devotionally talented, Sam's music uplifts enlivens and inspires the hearts and souls of people all over the world.
With a skillful combination of vocals and guitar, he lifts the mood with reggae riffs such as 'Lost In the Moment' and soothes our busy minds with the soft tones of 'Higher Than the Mountains,' offering a unique journey and depth that is rare to experience.
During the pandemic Sam connected to Rastafari wisdom and livity, a connection that has always had a deep place in Sam's heart. Whilst in lockdown Sam started to feel a pull towards the teachings and example of Haile Selassie and the spirit of Rastafari, which gave solace and comfort during these difficult times.
Songs started to come through and an album was taking shape inspired by a call for deeper introspection and unity in a time of separation and division.
Sam was inspired by the album 'Back to the Roots' by Paul Izak and so after reconnecting online, Sam made his way to Oahu to record the forthcoming 'Forward to Zion' album which is set for release in 2023. Sam is looking forward to setting out on the road to share his heart songs, love and wisdom with the world.
Growing up in a musical family, Sam's father would play a diverse range of records from artists such as Led Zeppelin, Bob Marley, and Stevie Wonder. In Sam's most formative years, his father took him to all different kinds of concerts on a regular basis. Sam was deeply inspired by his eclectic exposure to music and curious about the creative path of artistry. By the age of 12, Sam had formed his first band and went on to play in the UK scene for some years before going solo.
Sam would spend a lot of time writing songs immersed in the rich nature surrounding his family's home. From this chapter of his life, he released his first EP 'Be Easy' in 2014.
Sam would eventually come to meet his spiritual teacher, Mooji Baba, in Portugal. Meeting and deeply connecting with Mooji was an incredibly impactful part of Sam's path. While living and studying at Mooji's ashram 'Monte Sahaja', Sam would often partake in the contemplative practice of Satsang as one of the attending musicians.
The 2019 single ʻLight of Your Graceʻ and 2021 album ʻRoot Down Deepʻ co-created with fellow spiritual sojourner Mollie Monedoza was born from this chapter, and after experiencing the effervescence of life in Portugal, Sam decided to move there. Now, he spends his free time in between tour dates etc. sipping in the sweet nectar of gratitude, living a life of simplicity and stillness near 'Monte Sahaja'.
Mooji's teachings continue to have a profound effect on Sam's life, which can be found woven throughout the message and essence of his music. Sam's music is a reflection of his life's journey thus far, and as his life continues to unfold, his eclectic library of inspirited sounds continue to expand.