Achtung: Abgesagt!
I Love Engtanz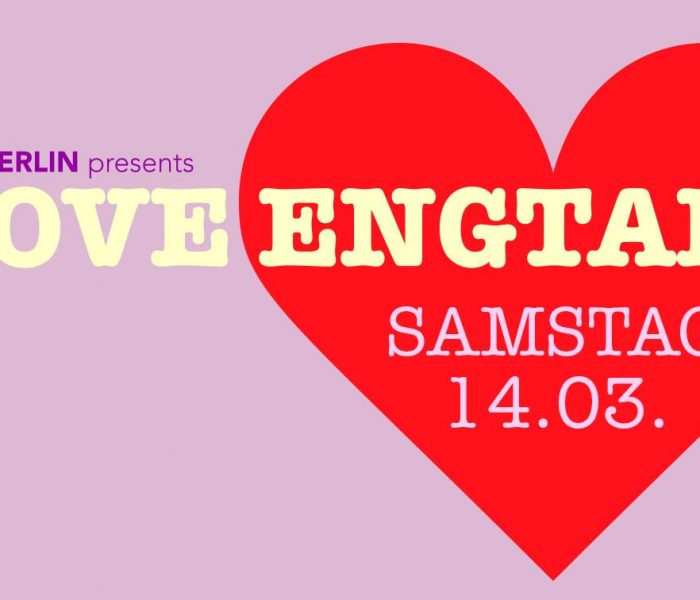 Lovers, Engtanz feiert LOVE, Kisses und HUGS.
Aber aktuell ist STAY AWAY  TO STAY CLOSE angesagt.
Daher haben wir folgende Entscheidung getroffen:
Wir wollen in diesen Tagen unseren Beitrag zur
Eindämmung des Coronavirus leisten und lassen
deshalb den Engtanz am kommenden Samstag,
den 14.03.20 im Metropol in Berlin- Schöneberg
ausfallen.
Freuen uns auf Euch ganz bald wieder
💔 Picknick Berlin und das I Love Engtanz-Team 💔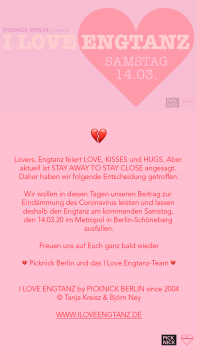 ---
❤️ BLOOMING LOVE ❤️
Dear Lovers, in march our lovely ENGTANZ HEARTS go bloom and we celebrate our early spring edition in Schöneberg! When the first flowers are blooming and the birds are starting to twitter, you know: LET LOVE GROW! The ENGTANZ BUTTERFLIES are on their way to Metropol and let your feelings run wild.
❤️ LOVESONGS
💋 KISSES
💞 FEELINGS
🎉 KONFETTI
🦋 BUTTERFLIES
🔥 HIP HOP
🌷 FLOWERS
Come and throw the seeds of love!
Freuen uns auf Euch
❤️️️️ Picknick Berlin und das I Love Engtanz-Team ❤️️
Get your Love-Mails 💌 http://bit.ly/EngtanzLoveMails
I LOVE ENGTANZ by PICKNICK BERLIN since 2004
© Tanja Kreisz & Björn Ney
@iloveengtanz
www.iloveengtanz.de
iloveengtanz@picknickberlin.de