Trinity Music presents:
CYMANDE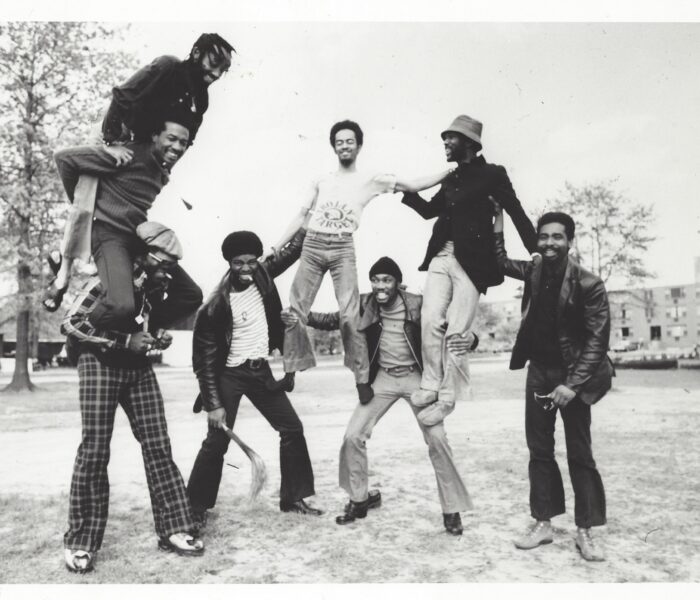 TIME
15. April 2024
Einlass: 19:00 // Beginn: 20:00
EVENT TYPETAGS
Disco
,
Funk
POWERED BY:
Tickets
They've been known as "the greatest band you've never heard of," however in 2024 that's clearly all about to change.
Cymande, a group black British musicians, who all came to the UK from the Caribbean as children, released three brilliant albums in quick succession in the early 70s and were embraced in the USA. But in the UK they faced a music business beset by prejudice against home grown black talent and were largely ignored. They originally split in 1975.  But their music lived on, as successive generations of artists and fans found and embraced their songs. Hip Hop, House, Drum and Bass, R&B, Rare Groove and crate digging communities all saw something in the songs of Cymande that inspired them.
Their massive influence can be heard in the dozens and dozens of samples taken from their albums over the last five decades, from pioneering DJs like DJ Kool Herc and Grandmaster Flash, to De La Soul, The Wu-Tang Clan, Gang Starr, The Coup, Sugar Hill Gang, Norman Cook/Fatboy Slim and The Fugees — to name just a few. They stand today as one of the most revered and sampled bands to have ever cropped up across the history of Hip Hop, House, and Dance music.
Now their story is being told on big screen for the first time in cinemas around the world with Getting It Back: The Story Of Cymande.  This heartfelt documentary shows the band's depth of influence across the decades and features interviews with Mark Ronson, Laura Lee and Mark Speer (Khruangbin), DJ Maseo (De La Soul), Jazzie B (Soul II Soul), Cut Chemist, Jim James (My Morning Jacket), Louie Vega, Kool DJ Red Alert, and so many others. Directed by Tim Mackenzie-Smith, the film has now been picked up by the BFI Distribution for release in the cinemas beginning on February 16th in the United Kingdom and Ireland.  Getting It Back: The Story Of Cymande will also make the rounds globally with the film landing in cinemas other around the globe. Full details on that roll out to follow shortly.
With this upcoming flurry of activity, Cymande will be on tour in support of the film all during 2024.  Dates in Europe and the UK are being announced this morning with many more countries and cities to be announced in the coming months.  The band continues to reach new audiences and are being embraced by yet another breed of fan – the generations who weren't even born when the band originally split up.
A brand-new website and new merch store with exclusive items was recently launched as well.  Visit: https://www.cymandeofficial.com/
Cymande are currently working on new music to be released later in 2024.